Skip to content
The Nano Singapore Story
Nano Singapore was started on a simple, powerful idea: To Help People Live Happier Through Wellness Innovation. From humble origins in the small city-state of Singapore, Nano Singapore is now Singapore's Favorite Award-Winning Wellness Brand with a regional presence.
Ranked as the World's No.1 Global Smart City by Jupiter Research in 2017, Singapore also came out tops in all the key areas measure. With the highest life expectancy in the world (University of Washington 2019) and the happiest country in the Asia Pacific (UN Report 2017), Singapore is truly Shangri-La of the East. Singapore's students also excel academically like consistently being recognized as No.1 in international Maths & Science. (TIMSS IEA 2019)
After an international trip to learn about the latest developments in naturopathic medicine, Singaporean entrepreneur Jijin Fu was inspired to develop his own range of herbal and vitamin supplements back in Singapore. His belief in the all-natural health-giving properties of herbs and minerals led him to develop a whole system of preventive based on naturopathic principles.
The unrivalled Singapore heritage of Nano Singapore is at the heart of whom we are today. Our devotion to an all-natural approach to wellness guides the development of our products. We are proud to be natural healthcare pioneers, and we are committed to providing our consumers with well researched and innovative products, trustworthy health information, and outstanding quality. This is ensuring customers get the best that science has to offer, each and every time.
Nano Singapore's flagship product, Men's Vitality Formula was formulated for men and made with the latest scientific research in wellness innovation. More than just a normal multivitamin, it has fruits and herbal blends to boost immunity and vitality. Hailed as the "Lamborghini" of men's multivitamins, it has cemented the company's place as a market leader in multivitamins.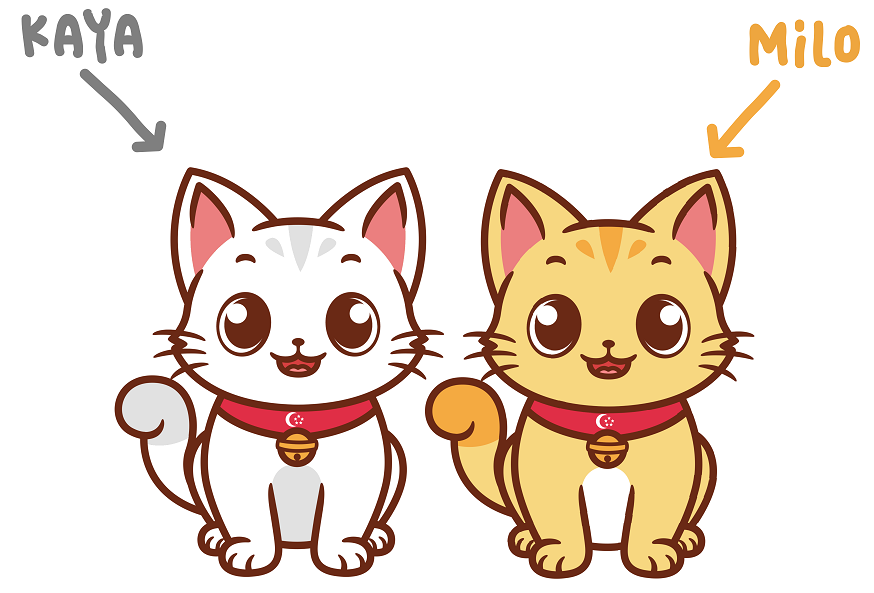 Say hello to Kaya and Milo, our homegrown Singaporean kittens and spirited ambassadors of health, who epitomize the active and balanced lifestyle promoted by Nano Singapore.
Born into a warm household in Choa Chu Kang, Kaya is a beloved neighborhood cat. She's a familiar sight in the community, offering companionship to children and the elderly alike. With unwavering positivity, Kaya is dedicated to brightening the lives of those around her.
Milo, whose golden fur glows like the namesake of a warm Milo drink, was adopted by a foreign expat family residing in the posh neighborhood of Dempsey Hill.
The fates intertwine when Milo, in pursuit of a playful otter, retrieves a red collar it had whisked away. It is then that Kaya, approached him. The collar, she reveals, is hers. Struck by her upbeat nature and charm, Milo finds himself completely enamored. Now, mirroring Kaya, he too wears a matching red collar as a symbol of their bond. Together, they embark on daily adventures, leaving a trail of positivity and joy in the hearts of all they encounter
Nano Singapore Brand Concept
Peranakan culture is one of the heterogeneous identities of Singapore, this crossroads on the trade routes of diverse peoples and nations. The term Peranakan is an Indonesian/Malay word that means "local born".
The traditional clothing fabric for Peranakan women is the nonya kebaya and is often decorated with embroidered motifs (known as sulam) such as roses, peonies, orchids, daisies and butterflies.
We incorporate this rich Singaporean heritage by illustrating its traditional embroidered motifs onto the background of the bag. This eco-friendly paper bag's structural design is designed as a traditional Peranakan-inspired bag.
But Singapore is much larger than its heritage roots. It is a young nation of fashion, innovation, and transformation.
To capture this legacy, we have illustrated Singapore's most iconic landmarks in a single graphic that treats you to a view of one of the world's most futuristic cities along the Singapore River using Peranakan inspired coloured majolica tiles that were commonly used in Peranakans homes in Singapore to adorn the facades and interiors.
This Singapore skyline is a fascinating mix of old and new, blending the modern-looking Marina Bay Sands, world-renowned Changi Airport, the Iconic Merlion, the famous Gardens by the Bay and Asia's largest observation wheel, the Singapore Flyer into a single blended Peranakan inspired glazed tile illustration - reminiscent of the city's character.
Sunday,Monday,Tuesday,Wednesday,Thursday,Friday,Saturday
January,February,March,April,May,June,July,August,September,October,November,December
Not enough items available. Only [max] left.
Add to Wishlist
Browse Wishlist
Remove Wishlist